Hello to my fellow wildlife protectors and conservationists!
My name's Rachael and I am a Science Communicator for Operation Wallacea (Opwall) and recent BSc Wildlife Conservation graduate from Nottingham Trent University.
How did the opportunity come about?
The original plan was to go on expedition to Honduras to collect data for my university final year dissertation project, titled 'Temporal Patterns In Caribbean Coral Species Diversity And Benthic Community Composition In Tela Bay And Utila, Honduras.' It aimed to identify any rapid changes in coral and benthic species following the implementation of an MPA (Marine Protected Area) in 2018.
You can read further details about the project I undertook here: https://www.opwall.com/expeditions/thesis-expedition/honduras-marine-dissertation-6/
I have a growing interest in marine conservation and wanted to experience more survey work and data collection while partaking in the most exhilarating activity us humans can do – scuba diving. Sadly, the pandemic kicked in and affected access to Opwall's sites, meaning I used previously gathered data, and desktop wrote my dissertation project before heading out to the sites. The opportunity to go to Honduras as a Research Assistant came up two years later (summer 2022), and I couldn't be more excited to travel.
I had already travelled as an RA to Indonesia back in 2019, so I thought, why not go on another fun expedition and get another chance to gain experience directly in the field, learn and develop my skills, meet new people, and network with like-minded people.
Check out my Hoga Island, Indonesia promotional video: https://youtu.be/J8CPC_5Q-t8
It was so fun to make, and it might give you ideas of how to fundraise for your next expedition!
If you're interested to find out more about their expedition sites, listen to staff podcasts or gain insight into how to plan for your expedition, make sure to check out the main Opwall YouTube Channel: http://youtube.com/opwall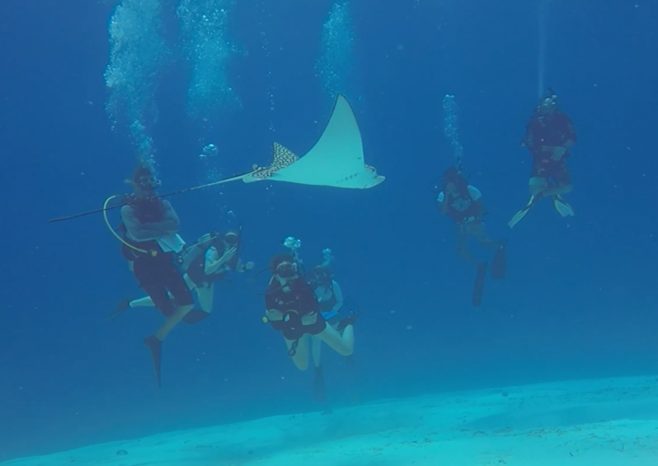 What did I get to experience while on expedition?
I gained hands on involvement in the research projects that were happening on the unique Tela coral reefs, including lionfish studies (locating, culling and dissecting) and macroinvertebrate surveys, and later data input for assessing the overall health of the reefs in Tela. I joined these projects after successfully completing a Caribbean Reef Ecology week-long course that includes lectures and in-water scuba practicals.
During my time out of the water (due to personal circumstances), I helped my fellow Research Assistants and those completing their first ever dives on the PADI Open Water course at the dive centre – by carrying tanks, sorting out dive gear, arranging weight belts and collecting dive data for insurance purposes.
I also volunteered at the Tela Marine Aquarium assisting the resident biologists in different tasks, such as feeding the fish and coral, cleaning the tanks, and replacing the tank water. Even when everybody else was preparing for dives and I stayed on land, I didn't allow what situation I was in effect my mood, mindset and dedication to Opwall's conservation initiatives.
Throughout my first week on Utila Island, I joined Emily Husband, an extremely dedicated PhD Candidate and Field Supervisor, on her reef Cay Island project. For context, this PhD aimed to reconstruct the formation of Caribbean reef islands and examine their evolution. For the first 2-3 days, I worked on completing coral reef sediment budget surveys – these involved identifying, measuring and recording a variety of sediment producers in different ecological zones around the reef islands. I also learnt about drone imagery, measuring ground control points, and how these together can be used to build 3D models of reef islands.
As a team, we then focussed the rest of the week on sediment coring the islands. With the beaming sunlight and hot sand, this was a challenge for us all! But we were committed, shared duties, and spent our breaks in the surrounding waters to keep cool. Our coring results were awesome to see and felt so rewarding after hours of tapping out the sediment.
At both sites, my time in the water was truly unforgettable. Already being a certified diver provided extra comfort on these adventurous and survey focussed dives. I was fortunate enough to experience wreck diving, observe and partake in stereo-video surveying and take part in cleaner shrimp station surveys with dissertation students. I also saw some beautiful marine life, including spotted eagle rays, turtles and a huge diversification of Caribbean fish.
I even witnessed the diverse Acropora coral populations in person after writing my dissertation on the species in the follow up to the expedition – this was an extra special moment for me to see that they were still thriving!
The site teams and I got to enjoy days off visiting botanical gardens, kayaking, making and tasting local cuisine, and relaxing in hammocks. I even got to celebrate my graduation ceremony away from home with a fun photoshoot on the beach!
What did I learn while on expedition?
Even if there are obstacles, keep going!
Working in this sector comes with many obstacles along the way, from situations stopping you from getting in the water or surveying, to taking on the stresses of habitat or biodiversity loss and climate change. But there's nothing you can't overcome if you're willing to put in the work. On expedition, Opwall staff ask their students to take pride in asking for support, getting advice and taking time to think over their decisions. By doing this, I further improved my confidence, team coordination and work-related motivations.
Embrace the challenges ahead & use your initiative
Distractions or even negative experiences can occur while out in the field or even prior to going on expedition e.g. delays or changing plans to the following year. And these should be faced head on. Don't shy away from these moments and instead embrace them and learn or grow from the experience. Also, using your initiative is crucial for becoming independent and gaining experiences in the field. So, on expedition is the best time to put this into practice.
Do your research
This can be finding information about the country you want to visit and about their culture, the projects you'll be involved in, or even getting in contact with / watching videos of former students or staff members that have experiences out on expedition. It's so important to familiarise yourself with these things, even before showing an interest or accepting your booking. You can contact the main UK office if you have any questions or queries – these details can be found at the foot of the website page. If any changes need to be made to your expedition e.g., project selection, dates or location, you have until the 31st March the year of the expedition (subject to start date).