Written by Emily Wilkinson
Photos courtesy of Oscar Paulinski
Before you head out on expedition you know what you are going to be up to in a broad sense – you have your research objectives and/or you know what course you are going to be doing. But it can all still feel quite daunting when you don't really know what that means for the day to day. So, we thought we'd share a day in the life with you, and because I've been to our marine site in Akumal, Mexico several times with you, that's the site I'm going to chat to you about.
Dissertation students:
As a dissertation student you know that you will be joining us for at least six weeks to collect data for your university project. In your first week you are still acclimatising, so instead of jumping straight into data collection you get the chance to learn how to scuba dive or to complete our reef ecology course as a snorkeller or a diver (to see what a week doing reef ecology looks like, have a read of the research assistants' section). This first week gives you the opportunity to get used to life in Akumal, learn some new skills that will come in handy during data collection and spend some time making friends with your team members.
After that comes the five weeks of data collection and seeing as that will be taking up the majority of your time with us, let's talk you through what a day looks like!
As you will know, your turtle behaviour data collection times will depend on whether you are on an "early" or "late" week. Your days centre around the behaviour observations (because they're the only ones with specific timings) so your days do change slightly with them, hence the two times given. So, broadly speaking, your weekdays will look like this:
Early week time
Late week time
Activity
6am
7am
Breakfast (fruit, eggs, toast, and cereal)
6:45am
Between 8 & 9am
Transfer to the beach
7-9am
9-11am
First turtle behaviour session
Between 7am & 12pm
Between 8am & 12pm
Seagrass quadrats and/or turtle-tourist transects
11am-1pm
1-3pm
Second turtle behaviour session
Between 12 & 2pm
Between 12 & 2pm
Lunch
1-5pm
1-7pm
Seagrass quadrat and/or turtle-tourist transects
3-5pm
5-7pm
Third turtle behaviour session
5pm
7pm
Back to base (then swim, shower, chill, and/or input data)
7pm
7:30pm
Dinner
8pm
Shower, input data and/or chill
Between 9 & 10:30pm
Bedtime
Remember: you are part of a team. You will never complete all the data collection in a day by yourself so while this looks full on, there is some time to chill during the days too.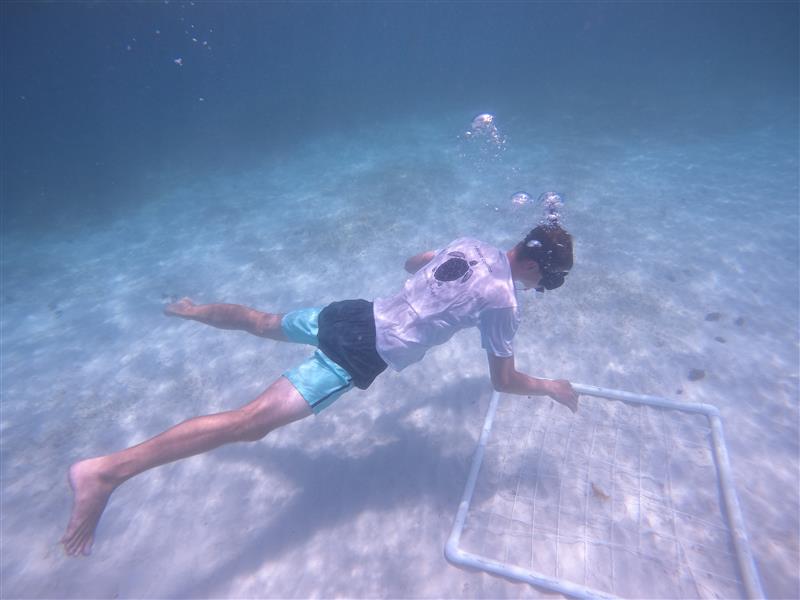 Left: Seagrass quadrat; Right: Turtle behaviour session
Now, as I said, that's what a weekday looks like. Saturdays are used for data collection too, though there are some changes. First off, if you are a diver, you'll get a fun dive at some point. Next, school groups and research assistants will be available to help with some of the data collection if needed. And the final change is that we don't do the last behaviour session of the day and stop all data collection at around 3pm. That was you get the chance to have some time to relax on the beach before dinner! Sundays are spent at base meaning no data collection occurs. You get a lay in, you have lots of time to catch up on data input, and you get to chill after a hard week's work.
Left: Fun dive; Right: Volleyball tournament agains the local dive centre!
Research assistants:
As research assistants in Akumal you will be completing our reef ecology course. If you want to snorkel or are already qualified to dive, then you will be completing the course in your first week with us. If you want to learn to dive, then you spend your first week doing so before joining the reef ecology course in your second week in Akumal. As this course is the major learning event during your time with us, let's talk through what you usually get up to each day!
Breakfast is served from 6 til 7:30am so you can help yourself whenever you'd like as long as you're ready in time for your transfer to the beach.
Depending on the number of people at the site, the number of transfers and their timings will change. Usually, however, our reef ecology students will transfer to the beach between 7:30 and 8am to get ready for their morning dive/snorkel.
Your first dive or snorkel of the day will occur sometime between 8 and 11am and will last for up to 45 minutes depending on the dive objectives and everyone's air consumption. You will usually have gone over the content for this dive or snorkel the night before, but if you have a later morning dive you may also spend some time recapping the objectives and practicing IDing beforehand.
A green turtle coming to say hi!
Lunch will be held between 12 and 1:30pm but you'll be given a specific time slot to make sure you eat before your next activity.
Again, you will usually have covered the content for your second dive or snorkel the night before, but you will spend some time talking about your objectives, going over the equipment you need and practicing your identification. This will either be before lunch if you had an early morning dive/snorkel, or in the afternoon if your second outing is later in the day.
Between 1 and 3pm you will leave for your second dive or snorkel of the day.
At around 4pm you will transfer back to base in time for a quick shower before your first lecture of the evening which starts at about 5pm.
Dinner occurs at 7pm which is then followed by a second lecture or a documentary at 8pm relating to the content of the course that day. The objectives for the next days dives will also be talked about, this will occur during either lecture.
After your lecture or documentary has ended you are free to chill, play games and have fun until bedtime(which considering the hectic schedule is usually around 10pm).
While on expedition as a research assistant you will also have the opportunity to help out the dissertation students in their data collection. You will definitely be taking part in data collection on a Saturday after your course has ended. You can also volunteer when you have some downtime between your activities (if you have the energy of course!) and the dissertation team will let you know how you can help them out.
Now you know what a day looks like at our marine site in Akumal, Mexico. Hopefully it will have helped make the prospect of the expedition a less daunting and if you have any questions, please feel free to contact us!